Doctors & Staff
Meet the experienced and friendly doctors and staff who make Vision Source the leading provider of vision care products and services in Minot.
Dr. Josh Meske
Dr. Josh was born in Dickinson, ND and grew up in Bismarck, ND where he later graduated with his Associates in Science from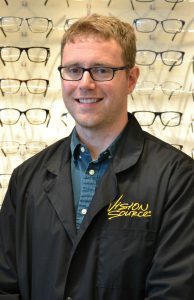 Bismarck State College.  In 2010, he received his Bachelors in Science from North Dakota State University.   He then furthered his education at Arizona College of Optometry where he was a member of a private practice club, Envision, and graduated with his Doctorate of Optometry in 2017.
He has participated in a variety of optometric acts of service including trips to Haiti and Tijuana, and homeless screenings while attending school in Arizona.
Dr. Josh took over as owner of  Vision Source Minot in the fall of 2018.  He enjoys providing a variety of contact lens fittings for our patients including specialty lenses.
---
Dr. Bob Nyre
Dr. Bob Nyre has been in practice in Minot since 1981.  Dr. Nyre graduated from the University of North Dakota and Summa Cum Laude from the Illinois College of Optometry in Chicago. He is a past-president of the North Central Regional Conference and the North Dakota Optometric Association.
Dr. Bob Nyre is a retired member of the North Dakota Army National Guard where he served as the Commander of the Medical Department and held the rank of Colonel. He is a veteran of Operation Iraqi Freedom where he served as the Chief of Optometry at the Balad Air Force Base from November of 2006 until April of 2007. He retired from the Army with 30 years of commissioned service in September of 2007.
Dr. Nyre is married to Gloria and they have two children. Laura works for the University of Minnesota as an administrator. She and her husband, Peter, have three girls, Carlena, Josephine, and Genevive.  Their son, Jon, also resides in Minneapolis where he works for Heraeus Group in their medical products division.  He and his wife, Tanya, have three daughters, Avery, Stella, and Sloane.
Dr. Nyre's optometric practice is a general practice including all aspects of optometric care.  He has a special interest in eye health and currently practices part time.
---
Bob
Bob is one of our office opticians. Bob came to us over 30 years ago with experience in the agriculture and construction fields.  He has worked exclusively in the optical field and has amassed a great deal of valuable experience. Problem solving is his most valuable skill. Bob assists Dr. Nyre and Dr. Meske with trial framing of prescriptions to ensure the accuracy and functionality of your new prescription. He has experience with all types of ophthalmic lenses and lens treatments.
---
Jen
Jen is one of our optometric technicians. She has been with Vision Source for 7 years and has over 15 years of optical experience.  She has three dogs, Louis, Daisy, and Milo, and a wonderful boyfriend named Guy.  When not working, Jen enjoys spending time with family and friends, supporting local music events, and traveling with Guy.
---
Paula
Paula is our other optometric technician and has been with us for three years.  She brings her smiling personality and positive attitude to our Vision Source family. Paula was born and raised here in Minot. She has two wonderful daughters, Olivia and Jaeley.  She has been married to her husband, Jason, for seven years.  In her spare time, she and Jason like to travel and see different baseball stadiums and various sporting events.  Paula also enjoys spending  time with her extended family in North Dakota and Wisconsin.
---
Heather
Heather has been our office receptionist and social media coordinator for the past three years.  She has over 10 years of customer service experience.  Heather was born and raised in Dickinson and moved to Minot after meeting her husband, Dan, seven years ago, and were married in the fall of 2015.  In her free time she enjoys reading, watching hockey games, and traveling with her husband.
---
Deanna
Deanna joined our Vision Source team as one of our opticians in 2017. She grew up not far from Minot on a farm where she enjoys spending time outdoors with her son and beagle while tending to the family livestock. In her free time, Deanna loves being with friends and family and watching television, especially reality shows.